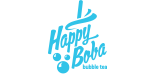 Happy Boba
Open today
From 11:00 AM to 8:00 PM

At Happy Boba Fisketorvet, you find a delicious selection of exciting teas, lots of exciting taste and fun "Boba's" - the Taiwanese expression for toppings or pearls. A main ingredient in the popular Bubble tea. Whether you are into sweet or sour and other original teas - you will find it here.
At Happy Boba, you choose your very own mix. First you choose one of the teas. Then two kinds of Bobas which make your drink fun and extra delicious.
The café is conveniently located in the heart of Fisketorvet, with the best view of the striking artwork and water stairs. A great meeting place for friends or for a shopping break.
Welcome to Happy Boba Fisketorvet
Practical Links :
Opening Hours
Monday

· From 11:00 AM to 8:00 PM


Tuesday

· From 11:00 AM to 8:00 PM


Wednesday

· From 11:00 AM to 8:00 PM


Thursday

· From 11:00 AM to 8:00 PM


Friday

· From 11:00 AM to 8:00 PM


Saturday

· From 11:00 AM to 8:00 PM


Sunday

· From 11:00 AM to 8:00 PM

Practical Links :